A validated measure and effective system for wellness
Jane E. Myers & Thomas J. Sweeney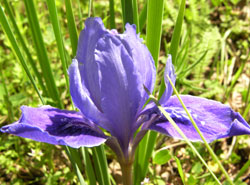 Manual

License to Use


Personal Reports


Group Reports


Translations


Workbook
The Five Factor Wellness Inventory (FFWEL) is a new evidence-based tool designed to assess characteristics of wellness as a basis for helping individuals make choices for healthier living. Developed through structural equation modeling analysis of a large database from the Wellness Evaluation of Lifestyle (WEL), the FFWEL measures the higher order Wellness factor, five second order factors and seventeen discrete scales as illustrated in the Indivisible Self: An Evidence-based Model of Wellness. These scales are measured using seventy-four scored items and a number of experimental items. The latter items include a six-item perceived safety scale, a three-item perceived wellness scale, and an eight-item context scale. Demographic items are also included.
The WELLS and the FFWEL have been used to study wellness in relation to diverse psychological constructs and demographic indices. These have also been used for program evaluation.
Please note that two additional forms are included in the Manual/Sampler set: FFWEL-T for adolescents with a 6th grade reading level or above, FFWEL-E for elementary school aged children with a 3rd grade reading level or above.
Features
Provides normative comparison of 3,343 adults and 1,142 teens
Guide to Interpretation of Scores is included in the Sampler Set
FFWEL-A for teens and adults with a 9th grade reading level or above
Manual
- You need a Manual if...
Paper by
mail

Digital download (PDF)

Includes non-reproducible instrument marked "non-reproducible copy"

$50.00
Tutorial License to Use - purchasing options
- You need a License to Reproduce/Administer if...
- You need Mind Garden's Online Survey if...
- Translations
The FFWEL Online Survey is available in two forms: Form A2 (Adult) and Form T (Teenage). You will specify one of the forms when you order.
License to Reproduce/Administer
Mind Garden's
Online Survey

Number of
Administrations

Paper by
mail

Digital download (PDF)

MindGarden's Transform system
for data collection and scoring

50
$100.00
$120.00
100
$110.00
$132.00
150
$135.00
$162.00
200
$160.00
$192.00
250
$200.00
$240.00
300
$228.00
$274.00
350
$252.00
$302.00
400
$288.00
$346.00
450
$324.00
$389.00
500
$360.00
$432.00

For pricing for larger quantities, please click here
Tutorial Personal Reports
Let us do the administration for you. We will send you a link to a unique and secure online "control panel" where you will enter clients names and email addresses. Clients will be sent an email with a secure url address to take the evaluation* in privacy at their convenience. You can monitor their progress from your control panel. Instruments will be scored and a report returned to you. Select the desired number of reports from the drop-down menu.
* click here for web-browser compatibility information
| | | |
| --- | --- | --- |
| Adult form | | |
| | | |
| --- | --- | --- |
| Teenage form | | |
The following volume pricing applies:

Individual report
$15.00 each
2-10 reports
$14.00 each
11-20 reports
$13.00 each
21-50 reports
$12.00 each
51-100 reports
$11.00 each

For larger quantities, please contact us
Group Reports
In general, a Group Report saves time by doing the group calculations and providing limited interpretation. The purchase of a Group Report must be accompanied by a purchase of Licenses (Online Surveys) since there must be data available for the Group Report to run. You will need one Group Report per campaign (campaign = Online Survey grouping).
If you need to order more than one Group Report, please contact us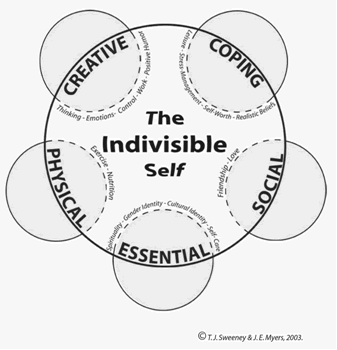 The Indivisible Self - A new evidence-based model
of wellness, The Indivisible Self, provides an alternative perspective
for viewing wellness across the lifespan, incorporating 17 separate
wellness dimensions, five factors, and one higher order Wellness
Factor......
The Five Factor Wellness and Habit Change Workbook
The purpose of Wellness and Habit Change Workbook is to help you make choices to be well – daily, weekly, monthly, and over your entire lifespan. Each wellness choice you make will empower you to make even more choices that increase your wellness in all areas. So, go for it!
You will find that you can use your own commitment to wellness to model and encourage healthy behavior in others as well. The strategies for habit change covered in this workbook will provide you with tools to help both yourself and others create healthy lifestyles.
So, are you ready to choose wellness?
Workbook
There are two options for ordering the workbook.
Option 1: Print and bind your own copies. Select the desired number of licenses* from the drop-down menu. You will download the workbook in electronic format along with a license to reproduce.
* We charge $20 for the Workbook. This price includes the license to make one reproduction. Additional reproductions can be added at a cost of $5 each.

For more than 100 reproductions, please contact us.

Option 2: Have us print and bind the workbooks and then ship them to you (FedEx delivery costs apply)
Scales
1. Wellness
Creative Self: Thinking, Emotions, Control, Positive Humor, Work
Coping Self: Realistic Beliefs, Stress Management, Self-Worth, Leisure
Social Self: Friendship, Love
Essential Self: Spirituality, Self-Care, Gender Identity, Cultural Identity
Physical Self: Exercise, Nutrition
2. Context Scales
Local
Institutional
Global
Chronometrical
3. Overall Life Satisfaction
Inventory Booklet Samples - Form A
Directions: The purpose of this inventory is to help you make healthy lifestyle choices. The items are statements that describe you. Answer each item in a way that is true for you most of the time. Think about how you most often see yourself, feel or behave. Answer all the items. Do not spend too much time on any one item. Your honest answers will make your scores more useful.
| | | | |
| --- | --- | --- | --- |
| A | B | C | D |
| Strongly Agree | Agree | Disagree | Strongly Disagree |
| If it is true for you most or all of the time | If it is true for you some of the time | If it is usually not true for you | If it is almost or never true for you |
| | | | | | |
| --- | --- | --- | --- | --- | --- |
| 1. | I engage in a leisure activity in which I lose myself and feel like time stands still. | A | B | C | D |
| 2. | I am satisfied with how I cope with stress. | A | B | C | D |
| 3. | I eat a healthy amount of vitamins, minerals, and fiber each day. | A | B | C | D |
| 4. | I often see humor even when doing a serious task. | A | B | C | D |